The Love Me Nots return to Los Angeles with guests Kiss Kiss Bang Bang plus Bullet DJs Rich Soulshaker, Jason Pandora, Alberto Sol, Lee Joseph, Rick Barzell, DJ Lady Bug and Dr Ray spinning full tilt mod sounds in two rooms for DANCING ALLNIGHTER style!! FREE Bullet mix CD for all online presale ticket purchases!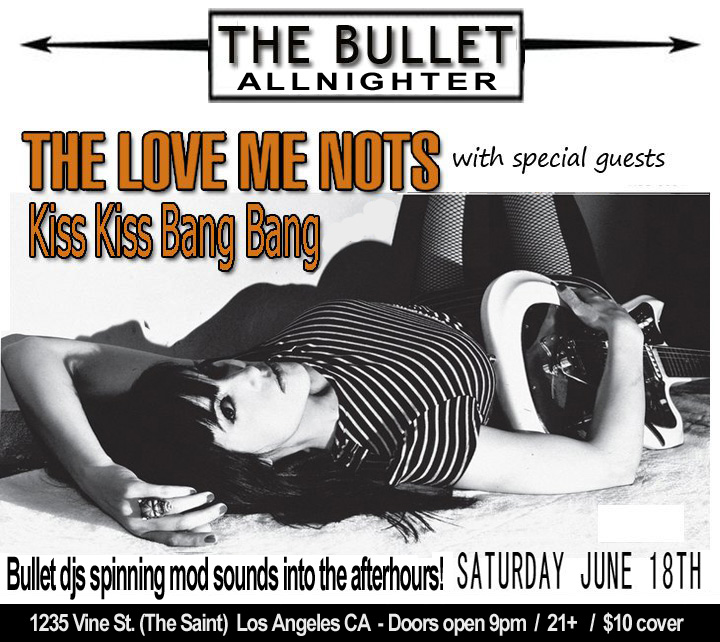 THE LOVE ME NOTS
A quartet from Phoenix Arizona, play fuzzy, farfisa-drenched rock and roll, full of howls and heartache. All albums recorded by legendary Detroit producer Jim Diamond (White Stripes, Romantics, Dirtbombs) and released on the band's own label, Atomic A Go Go Records.
"One of the most exciting acts of the moment; Disc of the month. Stunningly Feverish." – Rolling Stone "One of the few modern garage revivalists that ranks with its storied influences." – LA Weekly
KISS KISS BANG BANG (USA)
A band from The Northeast Los Angeles Garage Rock scene. With a fashion model lead singer (Devon) & the popular owner/head stylist of The Manic Panic Salon Of Highland Park (Laura) on Combo Organ, this band looks as good as it sounds. Rounding out the band are Kenny (Formerly with The Beat Killers) on guitar, John (Formerly with The Fuzztones/Speedies) on bass, and Tony from The Vaquetones on drums. They are currently in the studio recording their First CD with producer, Dave Klein (Agent Orange/Ghastly Ones/ Bomboras)
FREE BULLET MIX CD FOR EVERY TICKET PURCHASED ONLINE!
CLICK HERE TO "LIKE"
THE BULLET ON FACEBOOK!
** NEW ONE TIME ONLY LOCATION FOR THIS EVENT**

1235 Vine St. (The Saint) + a private afterhours loft above The Saint
Los Angeles CA 90028
Doors open 9pm til ??  /  21+   /  $10 cover